On April 10th, 2021 Twitch played host the the first ever edition of BopFest, a virtual festival hosted by Baauer. Here is a recap of the festival from some of those who performed.
How were you first approached to perform on the BopFest lineup and how did it feel?
RamonPang: Priyank Bhatia (YankTheTank) was the one who had the original vision behind a virtual festival featuring all the bop battle winners and VIPs of the community. I was part of the original group he approached for interest. I believe I was asked sometime after Mura Masa picked my beat for the Bop Battle winner in December to officially make a set and I watched it slowly form into a planning committee. It was a really natural process, so it was all really surreal. It felt like even after grinding out on all the bop battles, I had all this confidence to showcase my tastes in this set.
vincebyvince: I was first approached to perform on the BopFest lineup last fall. There was a lot of talk about "what if" we had a festival amongst the community. I felt it to be such a honour to be part of the festival!
shaawh: Actually one of the organizers, YankTheTank in Discord, approached me to participate in BopFest. It was a really good feeling and I got scared a little bit. Because I knew I wasn't gonna DJ and wanted to finger drum, and I wasn't sure if I could do a 20-30 minute set live without messing up the drums. It was my first time doing a live set like that and I learned a lot trying to achieve this.
X&G: It felt awesome! Shout out to all the crew behind the fest, and thanks to Baauer for having us be part of the event.


Who were some of your inspirations behind the musical aspect of your set?
RamonPang: The ethos behind my RamonPang project in general is my attempt to take club/EDM DJing and add my own hints of experimentation, akin to guys on Warp Records, LuckyMe, Fractal Fantasy, etc. My favorite artists of all time include people like Baauer, Four Tet, Aphex Twin and Sinjin Hawke who have really eclectic DJing styles. I love that they'll pull out anything like Playboi Carti or a jungle track in the middle of their sets. I wanted that same energy but with baile funk remixes of RL Grime tracks, or that Megan Thee Stallion riddim track with Young Thug (an absolute banger by the way). Of course, I wanted to include a ton of my own music, since that's always the true culmination of an artist's influences. Was very pleased they all meshed together so naturally.
vincebyvince: I was inspired by a lot of music from the UK for this set. I threw in some garage which is something that I have really been into recently. Also felt super inspired my friends, big up to all of them.
shaawh: My main two inspirations for live sets are RL Grime and Danny Asadi who is a god at finger drumming. I really love how RL treats his sets. If you listen to it without seeing the visuals, the songs go together very well and the transitions are really smooth. On the other hand, Asadi is a really good finger drummer and he would do 30 to 45 minutes sets live finger drumming without messing up and I told myself if he could do it, with enough practice, I could do it too.
X&G: Man it's hard to pinpoint inspiration. We're inspired by so many different styles and ideas when it comes to creating. Our set consisted of only originals which spanned across our own melting pot of sounds and ideas. We listen to everything from house, garage, jungle, to pop, rock, country, hip hop, trip hop. Literally nothing is off the table when it comes to our music taste.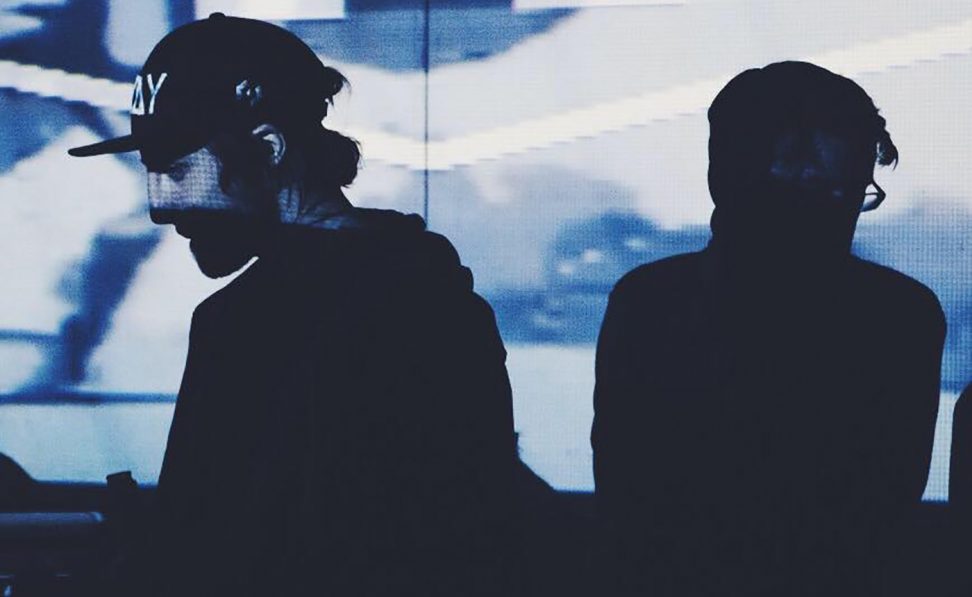 On this visual side, what was the idea behind the visual aspect of your set?
RamonPang: I recorded the set outside my balcony on a warm Sunday morning. I'm really interested in the idea of mixing the completely natural with the purely digital (in both my digital art and my music) so I felt the Verdugo Mountains outside my apartment were a great backdrop that fit well with my aesthetic. I pretty much did it in one take because I was really feeling the set.
vincebyvince: Axel Kinnear was responsible for my visuals. He's a super rad illustrator and animator from Toronto. I had a few ideas in mind like different drum machines and synthesizers. After shooting ideas back and forth he sent me some mock up designs that blew me away. I couldn't have imagined anything more fitting for my set.
shaawh: So from the start, I knew my finger drumming was the main focus, because I think that's what I excel at compared to others. It is what makes me different. I tried to do visuals but It didn't feel right to me because too much was going on and I wanted people to focus on one thing not two at the same time.
X&G: We commissioned artist Asking Gee for the visuals. She did an incredible job matching visuals with the music. We make really energetic and dark music and the visuals did a great job showcasing that in visual form.

Did you find the restraints of a virtual set tough? If so, how?
RamonPang: I'm pretty confident in my virtual set game. I've played quite a few virtual only fests, even before the pandemic started—I think the very first one I played was with the Open Pit team for their Mine Gala event in Minecraft, next to artists like 100 gecs, Iglooghost and Dorian Electra. During the pandemic, I played somewhere about five or six virtual festival sets for my friends at Soul Food Music Collective in 2020.
I find the trick is to treat these mixes like you're playing on the radio and broadcasting to people in the future. That often takes a fair amount of caffeine for me, due to the lack of a crowd. And with the 20 minute time-limit we had for these sets, I felt like I had to really bring it with my DJing. Kinda like the battle-style DJing that old school dubstep DJs would do with each other.
vincebyvince: Not at all! The virtual set restraints actually gave me ideas that I wouldn't normally have. I had to think outside the box for some things.
shaawh: Yes, because I feel like my skills at finger drumming are good enough for people to enjoy and I feel like I can make it entertaining. I remember Diplo said in an interview to find something in yourself that makes you different and exploit it to a point where it becomes your identity and you can stick out more. And I feel beside music, my finger drumming can be my identity.
X&G: Not really, if anything it allowed less restraints. This was our first time exploring visual territory with our music in a performance perspective, so it was really cool seeing this "additional life" be added to our music.

What was it like seeing so many people tune in for a virtual festival like this?
RamonPang: This is probably one of the biggest virtual festivals I've ever played for, so watching the crowd creation and spamming was insane! Best part was probably seeing the same names I see in the Baauer Twitch chat on a normal basis going crazy together. Gave me the same energy as like a 100 person-type show where you know everybody in the crowd. Except it was like 500 viewers or something at the peak of my set.
vincebyvince: Seeing the turn out was surreal… there were so many friends and people I look up to in the chat. The excitement from the community was wild. Everyone was being so kind and supportive, it was truly incredible.
shaawh: At first I didn't expect for many people to show up but during my set there were at least 700 hundred people watching which was insane to me. It was a surreal experience and I hope I can play live one day in front of a crowd, that's my goal.
X&G: It was really cool! We weren't sure how the event was gonna turn out but with the entire team curating the event and seeing everyone putting their all into every detail of the festival it made us even more excited for it to happen. The turnout was great.
How important has the support been from the Twitch and Discord communities that inspired the festival?
RamonPang: The Baauer community has been super inspiring for me in 2020. I started getting active in the Discord and the Twitch stream when it first started in April. Mustering up the courage to compete in the Bop Battle was a personal mission of mine; it was addicting having Baauer and the chat react to tracks I worked hard on in real time, especially because everyone else's bops were so insane—these people would have like 80 SoundCloud followers and absolutely school me.
Also watching the way that Baauer constructed bops on stream helped me be more loose with my songwriting and have more fun. Baauer would start a bop on stream, try really hard to make it bang in a very transparent way. He wouldn't hide that he was throwing samples at the project to see what stuck. And whenever he got stuck, he would just move on to something else. I found myself taking after Baauer's production mannerisms just by watching him for months on end.
If I'm being honest, I never felt like I was good at making drops that hit hard until I came across the Baauer community. For the first time in the RamonPang project, I was making music that was created to make people go crazy, which wasn't really my mission before. So in a sentence, the Baauer community and their desire for bops really rubbed off on me and gave me a lot of confidence in my own creative, weird ideas.
vincebyvince: The communal aspect of this has been everything. The folks that conceptualized and organized everything were so on top of it and helpful. This project was made possible because of the community. I feel blessed to have found such great people.
shaawh: The support has been insane. I finally have a circle of producer friends where I can get feedback and communicate with them. I finally have the confidence to release my music.
X&G: Honestly, Twitch and Discord both have been monumentally helpful platforms, especially during a pandemic. Not being able to interact with people IRL for shows or in general for over the course of a year plus, it's been nice finding communities like Baauer's and connecting with people through these platforms whereas before it would have just been via social media, which can get exhausting.
What was your personal favorite set of Bopfest, and what was the overall highlight of the night?
RamonPang: Too many good sets honestly. If I had to pick one from the undercard though, I'd say that ONLYTHENEXT really blew me away. He has so much swagger behind the decks, and his productions are insane. Great mixing, great taste and great, tasteful video edits.
Overall highlight of the night was definitely Baauer's set at the end of Bopfest. A set of only Bop Battle Submissions. It was such a great way to wrap up 20 weeks of Bop Battles. A selection of the greatest hits from the man himself.
vincebyvince: My personal favorite set of Bopfest was Baauer's. I wasn't expecting him to highlight all the talent that we have had in the bop battles. I was so happy to see people of all skill levels getting their music played out by him. Everyone was so happy and exited and it was such a cool way to highlight the talent in the Bop Battles.
shaawh: My favorite set from the whole festival has be BHB's. It was so creative and different and it set the mood and the tone for the festival. The production was 10 out of 10 and it really made me happy. My favorite highlight has to be Baauer's whole set, because he played only the tracks from the community and it really was a great ending to a great festival.
X&G: Obviously Baauer, along with Sim Fane, RamonPang, ONLYTHENEXT, Good Times Ahead, Blastazoid, stalesmcgales, so many good sets. I think the highlight for sure was when Baauer ended his set and walked away. It was this bittersweet moment seeing behind the scenes the whole process of this event being built, and then seeing him walk away we felt this emotion of like, "we did it" but also "Damn it's over." It was a great fest, hopefully another happens soon!
Follow BopFest for more updates.
Keep in touch with RamonPang, vincebyvince, shaawh, and X&G on Instagram.